About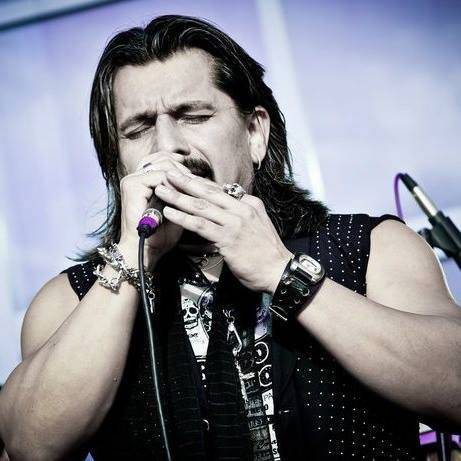 Pete Astudillo a first generation US citizen and
former migrant worker, was born and raised in
Laredo, Texas. Growing up in a border town gave
him the opportunity to experience the culture of
both sides of the Rio Grande, which had a great
impact on his musical style. During his early
years Pete discovered that he had a natural
singing voice and an uncanny ability to compose
songs, so when he met Jose Ojeda, he ventured
into the world of music by forming the duet "Los
Bad Boyz".
The boyz worked tremendously hard and played
their music wherever and whenever they could.
Many times this would mean the group would play
for exposure only, without any monitory
compensation. One day, while performing at a
local flea market, a popular DJ, "The Bird",
stopped by to listen to the duo. After hearing
them perform, he offered them the opportunity
they had been waiting for. The Bird had a
connection at The Roxy, the largest local night
club in the city where Selena y Los Dinos were to
perform. The DJ asked the duet if they would
consider opening for the group, however, it would
again be for exposure only. Pete and Joe
immediately took him up on the offer and were
happy to perform at such a large venue.
That night The Bad Boyz performance was
impressive. As they were packing up their gear,
Mr. Quintanilla (Selena's father) approached them
with a proposition; opening for Selena on her
current tour. The journey for Pete and Joe
opening for the group was trying at best. They
were still paying their dues and making sacrifices
on the tour. Through all the hard work and
sleepless nights of his young budding career,
Pete never stopped working on his craft. The
early years proved to have had more than its
share of challenges, but all of the sweat, tears,
and empty wallets were about to pay off.
In 1988 at long last the opportunity Pete was
waiting for happened when Los Bad Boyz found
themselves official members of Selena y Los
Dinos. Pete Astudillo's songwriting talent was
one of the key factors that lead to the incredible
success of the group. He co-wrote such hits as
La Carcacha, Como La Flor, Tecno Cumbia,
Amor Prohibido, Baila Esta Cumbia, Bidi Bidi Bom
Bom, Si Una Vez, and many more.
While Pete was enjoying wonderful success
alongside Selena, both his record company
(Capitol EMI) and manager (Abraham Quintanilla)
suggested that he consider a solo career. One
look at the numerous hits he has enjoyed over the
years is enough to understand the reasons why
Pete Astudillo is considered a legend of Tejano
music. His multiple talents as a singer, songwriter
and actor ("Selena" the 1997 movie) have led him
to the highest accolades.
Pete has recorded seven solo albums /
productions, including the triple platinum album,
"Como te Extraño". Pete Astudillo continues to be
honored with numerous awards and accolades.
Pete Astudillo nació y creció en Laredo, Texas. Crecer en una ciudad fronteriza le
brindó la oportunidad de experimentar la cultura de ambos lados del Río Grande,
lo cual tuvo un gran impacto en sus influencias musicales.
Durante sus primeros años descubrió que tenía una habilidad natural para cantar
y componer canciones.
Incursiona en el mundo de la música cuando conoce a José Ojeda y juntos forman
el dueto "Los Bad Boyz". Después de varias presentaciones en su ciudad natal,
llega una gran oportunidad al ser invitados a trabajar al lado de Selena y Los
Dinos. Inicialmente fueron contratados solo para abrir las presentaciones de Los
Dinos, pero para finales de 1988 ya eran integrantes oficiales de la agrupación.
Pete Astudillo fue clave del gran éxito del grupo, siendo coautor de grandes éxitos
como La Carcacha, Como La Flor, Tecno Cumbia, Amor Prohibido, Baila Esta
Cumbia, Bidi Bidi Bom Bom, Si Una Vez, y muchos más.
Cuando Pete estaba disfrutando de gran éxito al lado del Selena, su compañía
disquera (Capitol EMI) y su representante (Abraham Quintanilla) le sugirieron que
considerara lanzarse como solista.
Basta una mirada a los múltiples éxitos en su carrera para entender las razones
por las que Pete Astudillo es considerado una leyenda de la música Tejana.
Sus múltiples talentos como cantante, compositor y actor ("Selena" la película) lo
han llevado a obtener los más altos reconocimientos.
Pete ha grabado siete discos/producciones como solista, incluyendo & "Como te
Extraño", por el cual se le otorgó disco de triple platino. Durante su carrera, Pete
Astudillo ha recibido los siguientes premios y reconocimientos.
'93 TTMA Rising Star
'93 Premio Lo Nuestro (Co-Writer) Canción Del Año Como La Flor
'94 BMI Most Performed Latin Song (Co-Writer) Amor Prohibido
'95 TTMA (Co-Writer) Song of the Year Bidi Bidi Bom Bom
'95 Premio Lo Nuestro (Co-Writer) Canción Del Año Amor Prohibido
'95 BMI Latin Writer of the Year
'95 BMI Most Performed Latin Song (Co-Writer) Bidi Bidi Bom Bom
'96 TTMA Most Promising Band Futuro
'96 Premio Lo Nuestro Song of the Year (Co-Writer) Como Te Extraño
'96 Premio Lo Nuestro Revelación Del Año
'96 Pura Vida Awards Song of the Year Como Te Extraño
'96 Billboard Latin Music Awards Album of the Year Regional Mexicano Como Te Extraño
'96 BMI Latin Writer of the Year
'97 TTMA Album of the Year Orchestra/Group Como Te Extraño
'97 TTMA Album of the Year Overall Como Te Extraño
---